Listen Up
Each year, Bainbridge Community Foundation administers a Nonprofit Survey to local organizations and also hosts Sector Gatherings to discuss how to improve quality of life our community. After gathering qualitative and quantitative information, we analyze these data to identify key issues and trends. We then apply this understanding towards awarding grants and providing tactical support, while ensuring that we appropriately address needs and emerging issues. We're pleased to provide you with a PDF download of our previous surveys:
In 2021, BCF took a more in-depth approach and produced a State of the Sector report using outside data to analyze community needs and provided detailed results from the Nonprofit Survey and Sector Gatherings. In particular, the report highlights vulnerabilities in the community as well as how our nonprofits and BCF are working together to ensure inclusiveness and accessibility to quality programs and services. To access both 2021 and 2022 reports, click here.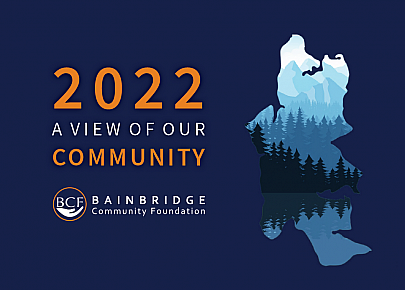 We'd love to talk to you about our findings and any questions you may have, so email us at media@bainbridgecf.org if you'd like to connect.