Hit the Press
BCF's State of the Sector Report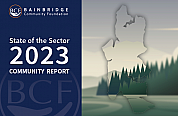 Since 2021, BCF has taken a more in-depth approach towards analyzing community needs and produced a State of the Sector report. In particular, these reports use outside data to highlight vulnerabilities in the community as well as how local nonprofits and BCF are working together to ensure inclusiveness and accessibility to quality programs and services.
In the 2023 Community Report, you will find:

A new framework detailing ten characteristics for a sustainable and supportive community
An analysis on each of the ten characteristics, using local, state, and national data
A description of how nonprofits are supporting our community in these areas
Links to the reports are below.
For more information on BCF's Annual Nonprofit Survey and Sector Gatherings, visit our website here.

Annual Reports and Grantmaking Reports
Learn more about Bainbridge Community Foundation through our annual reports and grants reports. Jump to the bottom of this page for 990s. If you're looking for other information, let us know.



2019 BCF Annual Report


2018 Annual Report

2018 Grantmaking Report

2017 Annual Report

2017 Grantmaking Report

2016 Annual Report

2016 Grantmaking Report

2015 Annual Report

2015 Grantmaking Report

2014 Annual Report


2014 Grantmaking Report

2013 Annual Report


2012 Annual Report


Reporting
We are pleased to provide audited 990s for your review. Should you need access to prior filings, we are happy to provide what you're looking for. Just let us know.
2021
2020
2019
2018
2017
2016
2015
2014
2013
2012
Bainbridge Community Foundation's EIN is 91-2155208.
"Bainbridge Community Foundation helped us get the word out about capital needs to restore the publicly owned National Historic Registered Yeomalt Cabin. BCF made substantial and early cash contributions that were instrumental in building the positive community spirit for the restoration project."
—Jerry Elfendahl, Team Yeomalt