Hit the Press: Bainbridge Community Foundation Reports
BCF publishes two major reports every year in order to inform the community about BCF's work and to provide analysis and education about the work of our nonprofits. You can find these reports here.
Highlighted Report: State of the Sector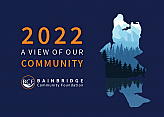 Since 2021, BCF has taken a more in-depth approach towards analyzing community needs and produced a State of the Sector report. In particular, these reports use outside data to highlight vulnerabilities in the community as well as how local nonprofits and BCF are working together to ensure inclusiveness and accessibility to quality programs and services.
In the 2022 State of the Sector report, you will find:
An analysis of our community highlighting recent statistics on affordability and mental health
Results from BCF's Annual Nonprofit Survey, how local nonprofits support our community, and the state of these organizations
The role of BCF in supporting local nonprofits and the broader public
The Paperwork of Life
For your convenience, the following PDFs are frequently referenced and used in Bainbridge Community Foundation (BCF) transactions and may be downloaded here. Many of these documents are not self-explanatory, so please don't be shy about asking questions.
The BCF Mark
BCF logos may be used by grantees and community partners in external and internal communications. The BCF logo is available for download in the following file formats:
If you have questions about logo usage or grantee requirements, please contact Debbie Kuffel, Program and Finance Officer, at debbie@bainbridgecf.org. Thank you!