A Place to Gather
A Permanent Home for Bainbridge Community Foundation
Bainbridge Community Foundation (BCF) is pursuing the purchase of four office condominiums at its current location of 299 Madison Avenue. This website is intended to provide information about the purchase of this building, which BCF has subleased for 3+ years, as well as identify possible ways to secure the funding required.
Where We Began
Bainbridge Community Foundation was founded in 2001 by members of the Trust Committee of One Call for All in order to create a more permanent pool of grant funds for nonprofits. Today, BCF has grown to a team of five staff members who focus on the strength of our collective impact when we gather our community's skills and resources together. We do this by analyzing community needs, awarding grants to help meet those needs, conducting educational programming, and connecting individuals and groups to issues they care about. The Foundation has grown from $172,000 in 2001 to more than $23 million today, and total grantmaking has exceeded $21 million as of the end of 2022.
Celebrating 22 Years and Looking Forward
BCF's goal is to encourage working together, bringing our own life experiences and diverse perspectives to the table, to help meet each other's needs. We do this by supporting our local nonprofits through analyzing community needs, awarding grants to meet those needs, educating donors and nonprofit leaders, and facilitating collaboration. BCF's support of 501(c)3 nonprofits extends to Kitsap County and beyond.
To accomplish those goals, we do the following:
Key Challenges
One of the factors of BCF's success has been its ability to connect people and maintain these relationships by building trust and encouraging a sense of collective impact. We partner with nonprofit leaders, donors, elected officials, and volunteers to ensure accessible and inclusive activities, programs, and services for everyone on Bainbridge Island.
These partnerships take time and space to cultivate. While BCF was able to spend time on relationships, prior to 299 Madison, it did not have sufficient space to be a regular convener of large groups nor could it be viewed as a leader in bringing people together regularly. BCF's former office space had conference room limited to 8 people and was not ADA accessible. The cost of renting, which in many cases also carried catering costs, often prohibited BCF from offering some of the programs and activities that we now know can greatly enhance our mission. BCF can also support other nonprofits by offering them the current space for free to hold training sessions or conduct board meetings. BCF has become a leading convener for groups on Bainbridge Island, as well as a hub for our partners to gather and build relationships—all of which is core to our mission.
In addition to being a gathering hub, 299 Madison fulfills all of the other essential criteria: street-side visibility, ADA accessibility, a conference room for 20-25 with an exterior door so that other community groups can use it privately, on-site parking, and sufficient space for current BCF staff with room to grow.
What We've Learned
When we took possession of the office space at 299 Madison Ave N, we knew that it would be something of an experiment in how and if we could use the space. What we've learned since that time is that having the space has been tremendously beneficial. Here's how:
The street-side visibility within the downtown core has raised awareness of BCF in the broader community. We've had people stop by the front door to learn who we are, only to end up being donors or serving on a BCF committee.
Two large conference rooms and two small conference rooms with ADA-accessibility has enabled BCF to be a place to gather. BCF convenes larger groups to have critical community discussions regularly, as well as lends out the space for free to nonprofits that need to conduct trainings or lead board meetings. BCF has also used the space to engage socially with partners, which helps build relationships and can lead to better coordination.
Nine parking spaces including one wheelchair-accessible space has enabled us to allow access for all who want to participate in our events.
Five generous offices spaces, each with private doors, plus additional space for potential growth. This space not only enabled our staff to work from the office during the pandemic, but it continues to give them the private space needed to deliver their most productive and creative work.
Document and file storage, eliminating the need to rent off-site file storage spaces.
Financial Details
Below is a breakdown of the financial expenses and revenue associate with the purchase: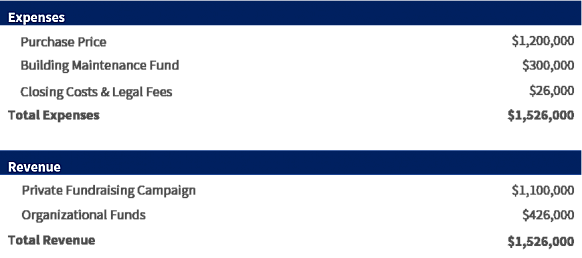 Sustainability
BCF has been in a steady trajectory of growth since its founding. As we have grown our staff, programs, and grantmaking, we have raised and earned sufficient funds to ensure a balanced budget. Purchasing the building will help us to ensure that we control operating costs, while at the same time ensuring that the Foundation can have a permanent home into the future.
How You Can Help
BCF is currently seeking the support of donors to help us reach our capital campaign goals. To support this project or learn more, please contact Jim Hopper (jim@bainbridgecf.org) or Brigette Yates (brigette@bainbridgecf.org).
For More Information
The capital planning task force is comprised of Aly Vander Stoep, Barbara Magusin, David Harrison, David Reynolds-Gooch, Jason Taylor and Jim Hopper, Executive Director. For additional information, please don't hesitate to reach our to any or all of us.
~~~
BCF is accredited by the National Community Foundations Standards Board, the leading national peer-evaluated recognition of excellence in delivery of mission, accountability, and impact. In 2017, Bainbridge Community Foundation was honored as Nonprofit of the Year by the Bainbridge Island Chamber of Commerce.