BCF Honors Local Philanthropists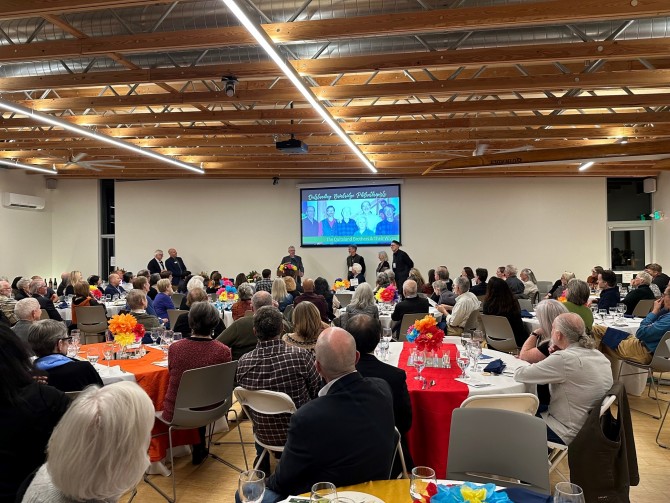 "Any historian would tell you, what would they want? They would want a time machine, to go back and talk to George Washington, or whoever. Well, we don't need a time machine. Lilly is here. She is living history. And you have to treasure that," stated Clarence Moriwaki in a video at last night's Philanthropy Celebration, held at the new Stan Pocock Rowing Center.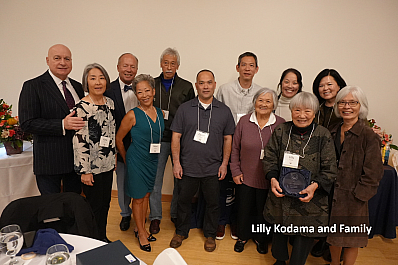 Lilly Kodama, a survivor of the 1942 forced removal of Japanese Americans from Bainbridge Island, has volunteered endless hours of her time to tell her story. Lilly, along with three other honorees at last night's BCF Philanthropy celebration, was given an award for contributions to this community.
BCF's Annual Philanthropy Celebration was created to celebrate individuals and groups who have inspired incredible acts of giving—often realized through the work of nonprofits—and who have laid a strong foundation for others to follow in their footsteps.
This year's honorees have deepened our understanding of history by making it come alive, have contributed their energy towards a variety of causes, or have donated time and materials towards initiatives that make our community more accessible. Each honoree has played a leadership role in making the Island a place we can be proud to call home.
In the words of Jim Quitslund the night of the event, "it is the community we want to thank. And it's the community that has made it easy for us."
Each honoree is listed below, along with the award they received. Watch the videos made in their honor in the descriptions below.
Lilly Kodama I Philanthropic Spark Award
Lilly Kodama was born in 1934 on Bainbridge Island, and grew up on the Island before being removed with her family to the Manzanar concentration camp in California in 1942. While she left to explore opportunities beyond the Island after graduating high school in 1952, she returned to Bainbridge Island in 1998. She soon got involved with local nonprofits, and has had an immense impact on sharing personal and historical stories about Japanese exclusion with children and adults to further education on this important part of history. She has helped activate the Japanese American Exclusion Memorial's motto Nido to Nai Yoni (Let it Not Happen Again) as a place of remembrance and action.
Bainbridge Island PIH Engage I Outstanding Youth Philanthropists
Functioning as a chapter of the grassroots global health organization Partners in Health (PIH), Bainbridge Island PIH Engage (BIPIHE) fundraises, educates and advocates for PIH and wider global health issues. Last year, these dedicated Bainbridge Island students raised more funding for PIH programming than any other high school chapter, and while leaders of BIPIHE continue to graduate, they successfully pass on the torch to future student leaders—creating a sustainable global health effort run by the Island's youth.
Quitslund Brothers and their Wives I Outstanding Bainbridge Philanthropists
The four Quitslund brothers, sons of Ford and Eve Quitslund, and their wives are being awarded the Outstanding Philanthropist award for their combined im­pact on the community. The brothers and their wives have had a profound and broad reach on Bainbridge Island-serving on multiple local nonprofit boards, helping support nonprofits abroad, serving on Bainbridge Island City Council, and contributing to arts and culture in the community. But most importantly, they have spread a culture of family and friendship that will last for generations.
Clark Construction I Outstanding Philanthropic Company
Clark Construction has been dedicated to giving back to the community from day one. Volunteerism is a part of the culture of the firm, with employees donating numerous hours to a wide variety of community causes. Founded by women, this employee-owned company is committed to sustainability. One of their signature community partnerships was the creation of workforce housing at the Morales Farm on Bainbridge using predominantly recycled materials - including those from other Clark projects. The project, a partnership between Coates Design, Clark Construction, Friends of the Farm, and Housing Resources Bainbridge was the first of its kind in our region and a model for innovative housing development. In addition, Clark was the construction partner for the Bainbridge Island Rowing's Stan Pocock Rowing Center and is a regular supporter of lslandWood, Helpline, Housing Resources Bainbridge and many others.
Thank you to Fieldstone Communities and First Fed
for underwriting BCF's Philanthropy Celebration on November 2nd.