Community Grants Cycle Awards More Than $420,000 in Local Grants
BAINBRIDGE ISLAND – Bainbridge Community Foundation's Community Grants Cycle (CGC) is an opportunity for island residents to support the causes that matter most to them. Whether priorities lie in providing basic needs for neighbors, creating opportunities for traditionally underserved populations, addressing needs due to the COVID-19 pandemic, or supporting creative new initiatives in the arts sector, all types of donors contribute to the CGC because they care about the impact of local nonprofits.
This year, 47 volunteers from the community reviewed 56 applications to the CGC, and 52 of those proposed projects were vetted and approved. BCF provided $50,000 in initial funding, and the rest of the support came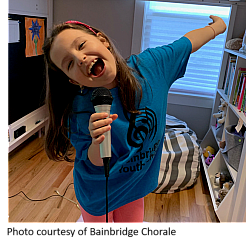 from generous donors who gave at all levels. In total, BCF was able to fund all approved applications, for a total of $422,589.
Some donors gave through BCF because the projects were important to them personally. One contributor, who supported a proposal by Battle Point Astronomical Association to repair their historic observatory building, wrote "Edwin E Ritchie [the building's namesake] was my father. I've always believed that he would be so excited to see everyone who passes through the doors and gazes through the telescope. I had the honor of watching him construct it. I miss him and always look for his special star when I look to the sky."
Others contribute to the CGC because they care about youth mental health or affordable housing. This year, about 50% of the overall funding—or $211,657 distributed among 24 organizations—went to health, housing, and human services nonprofits. BCF has always supported equitable access to basic needs in our community, and these nonprofits offer free counseling, legal services, food, housing, and rental assistance to families and individuals in need.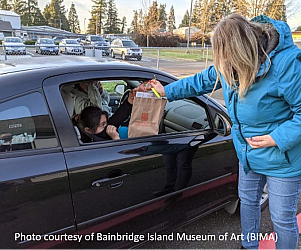 Arts and culture nonprofits came next as the second highest funded sector for a total of $46,350, with many of them finding innovative ways to stay afloat during the pandemic. Corinne Wolffe, Executive Director of Kids Discovery Museum, says "None of us were expecting a global pandemic, and like all of our local nonprofits, we had to pivot. We created new programs that still achieve our mission and formed new partnerships to reach those who might need additional support. We are looking forward to continued collaboration moving forward and we thank Bainbridge Community Foundation for their support."
BCF has launched its first Inclusion, Diversity, Equity, Accessibility, and Social Justice (IDEAS) award this year that honors proposed projects focused on equitable access to programs and services for everyone. This year, BCF gave this award to the Bainbridge Island Historical Museum (BIHM) for its exhibit "Our Community: Past to Present," which is a provocative new primary exhibit about the island's diverse history. BIHM expects over 15,000 visitors to view the exhibit over the next year.
BCF's fourth annual Shel Klasky Award, a special grant in memory of BCF's beloved board member, is given in recognition of outstanding applications encouraging collaboration and innovation. This year, the award went to Fishline Food Bank and Comprehensive Services for their proposal that exemplifies working together to support those at risk of homelessness. Their partnerships with local nonprofits such as Kitsap Community Resources, Kitsap Legal Services, Sound Works Job Center, and others shows how collaboration can save resources and expand the impact of their work.
BCF is deeply grateful for all donors and nonprofit partners that are committed to strengthening our community. Click here to see the list of grant recipients and the amounts awarded.