Investing in Nonprofit Capacity
BCF's unique Capacity Building Grants Cycle provides resources for local nonprofits to grow their expertise in a particular area of their choice. Most nonprofits apply to this grant cycle to help pay for training or expert advice where needed—some focused on DEI workshops while others look to hire a multi-year strategic planning consultant. In 2022, BCF received 23 applications, of which 19 were approved. Eight of the requests came from new applicants, seven of which were approved.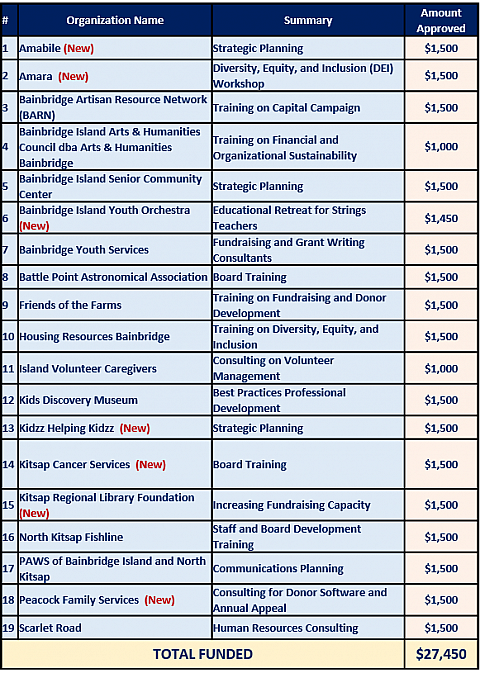 This was the largest number of new applicants to this grants program since it began, enabling BCF to assist an even greater number of nonprofits. Of those grants that were not approved for funding, it was recommended that the requests were better suited for the Community Grants Cycle which opens only a few months later in February 2023.
In total, BCF funded a record $27,450, up from $23,250 in 2021. BCF started with distributing $7,000, and the remaining funds were contributed by generous fund advisors of donor advised funds. BCF has granted a total of $135,180 to 47 different local nonprofit organizations through its Capacity Building Grants program.
Total grantmaking by BCF was more than $2.9 million in 2022 alone, which brings our grand total to nearly $22 million awarded to nonprofits since inception. To learn more, please contact Debbie Kuffel at debbie@bainbridgecf.org.