Three Great Financial Education Programs Coming in April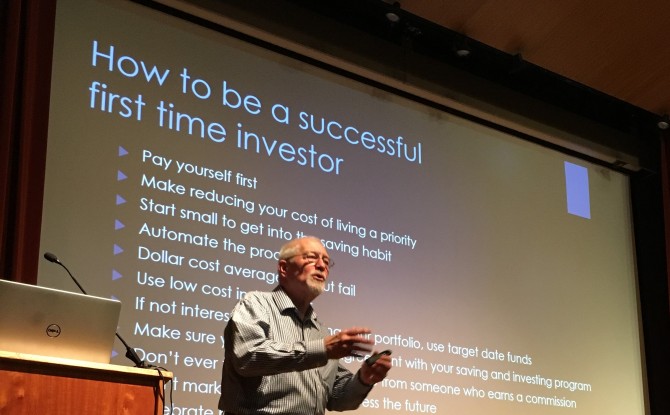 While young investors may lack funds, they're rich in an asset more precious still: time. Older investors, meanwhile, probably have more money to put into the market to offset their shorter window for return. For both groups – and the broad swath of investors who find themselves somewhere in between – there are plenty of proven strategies for wealth creation and retirement planning. Bainbridge Community Foundation is presenting a Spring Financial Education Lecture Series in April, hosted at the Bainbridge Public Library. The series was developed to make individual financial and donor education resources readily available to all islanders. "Financial health is important to both individual and community well being," said Jim Hopper, BCF executive director. "Charitable giving begins with confidence in your own financial position, and we're pleased to offer these seminars to help islanders make sound decisions with their money at every stage of life. Investing in yourself and your community, they're two sides of the same coin." Upcoming financial seminars include:
Retirement 101 | April 11th, 2019 | 7PM
|
REGISTER HERE
– Paul Merriman will answer some of the toughest questions about retirement.  How much will you need to retire?  How can you take more money from your investments without taking more risk?  How can you avoid the most common investment mistakes retirees make?  What are the pros and cons of index funds? Should you hire a financial advisor?   Can low cost or free online advisors really do the job?  What are the best mutual funds for retirees? Is there one fund that will take care of all a retirees financial needs?
Two Funds for Life| April 18th, 2019 | 7PM
| 
REGISTER HERE
– Paul Merriman will share 12 million-dollar investment decisions you should make to maximize your investment success.  With a special emphasis on investors saving for retirement, this session will highlight how to successfully launch a lifetime of thoughtful investing and financial health.  Guests will learn how to get the most out of their 401k and IRA, as well as how to avoid making the most costly investment mistakes.  For do-it yourself investors he will show how to eliminate the need for an advisor for the rest of your life. He will also discuss his new book, "2 Funds for Life," which includes the two best funds for those saving for retirement.
The Tricks and Traps of Estate Planning| April 25th, 2019 | 7PM | REGISTER HERE
– Join Paul Merriman and a panel of other professional advisors as they share tools to successfully support the people and causes you care about after you're gone.  Learn the answers to the most commonly asked estate planning questions, as well as how to avoid the most common estate planning mistakes. Learn how to use the 529 Plan to create what many professionals believe is the #1 estate planning tool.  Learn how to invest $1 a day to create a $10 to $50 million retirement for your grandchild. The discussion is not just about passing valuables to heirs but also the family values.  Learn how we can prepare our heirs for a family-friendly transition. The free seminars are underwritten by the Merriman Financial Education Foundation. The three the sessions will be led by Paul Merriman, longtime island resident and author of numerous books on investment and financial management.  The partnership between BCF and Merriman started in 2016 as a way to help Islanders become more comfortable with the language and concepts of investing.  "Bainbridge Community Foundation is unique in its commitment to educating and financially supporting other nonprofits, as well as donors who want to make contributions to meet today's needs as well as future needs of our beautiful island," Merriman said. "For the many of us who are getting older, it's time to start thinking about how we can leave a legacy for this community that has meant so much to us. If I can show others how to invest their money more productively, I hope they will have greater peace of mind and more money to help others."