POSTPONED: April Events Help You Take Charge of Your Financial Future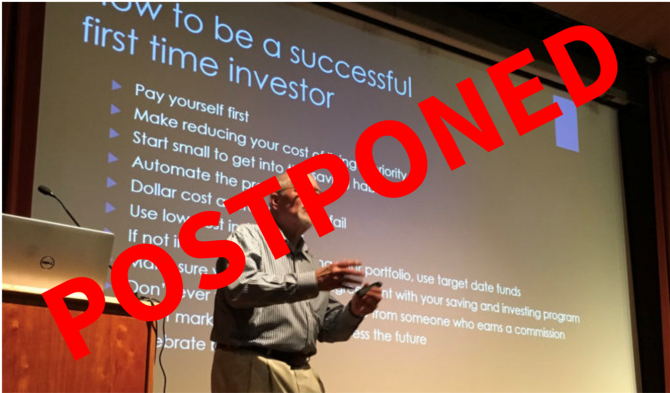 UPDATE: THE APRIL FINANCIAL EDUCATION SESSIONS AT BAINBRIDGE PUBLIC LIBRARY AND BAINBRIDGE ISLAND SENIOR CENTER HAVE BEEN POSTPONED.  WE WILL POST FUTURE PROGRAMMING HERE.  THANKS FOR YOUR PATIENCE
Hindsight is a powerful tool, especially when it comes to investing.  Who wouldn't have wished to invest in Amazon stock when it was a fledgling new way to buy books?  But having the power of hindsight to inform our future actions is still a very real tool in making good decisions moving forward.  And that's just what Bainbridge Community Foundation and the Merriman Financial Education hope to provide the public in a series of events coming up this April.  Billed as
Financial Education Month
,
April will host multiple events across several locations.  Topics will include:
Investing 101 -
Experts agree the biggest challenge to investment success is controlling our emotions.  Paul Merriman and Paul Heys share 12 life-changing investment decisions, and will help investors understand the best ways to invest for both short and long term financial needs.  Learn how to identify the human biases that get in the way of investment success and how to change that behavior to improve your financial future.  Get the inside story about how mutual funds work and how to select the best performing mutual funds for both growth and income.
How to Grow Your Investments for a Successful and Secure Retirement
Paul Merriman will show investors how to maximize their 401(k), IRA and other retirement investments.  Learn three steps guaranteed to improve your financial future as well as how to avoid the seven most costly investment mistakes.  You'll understand how much investors should be saving, the best combination of stocks and bonds for your age and risk tolerance, how to select the best target date fund and how a 10% change in your portfolio could double your lifetime return for you and your heirs.
Answers to the 3 Most Commonly Asked Questions at Retirement
Join Paul Merriman and a guest expert on Social Security, who will address three of the most asked questions for those entering or in retirement: 1) When should I take Social Security?  2) How should I change my investing strategy in retirement? And 3) How much should I or can I take out of my investments without risk of running out of money before I run out of life?  Learn how a small simple change in your portfolio can mean more money to spend in your retirement and more money to your heirs.
How to Balance between Living and Giving
Many Islanders have had, or are on the path to have, the good fortune of having more money than we need.  Most of us face the challenges of spending, saving for heirs, or giving to charity.  Join Paul Merriman and other experts to explore the best ways to put this money to work for you and others you would like to help. Learn how ways you can use donor advised funds to maximize your contributions, as well as your tax obligations.  Learn two changes to your investment portfolio that should give you peace of mind and an extra payoff for heirs and special causes.
In addition to the above, Merriman will be presenting a three-part series through Library U as well as a presentation at the Bainbridge Island Senior Community Center.
How to Manage 5 of the Biggest Financial Challenges Facing Seniors in Retirement
- at Bainbridge Island Senior Community Center - for more information visit
www.biseniorcenter.org
. In a period of low interest rates, great risk in a stock market that has been going up for over 10 years, the possibility of higher inflation, and a time of high political drama, what should a retired investor do to make sure they manage their finances prudently?
What the Past and Present Teach Us about the Future of Investing
– A Program of Library U at Bainbridge Public Library – for more information email
BainbridgeLibraryU@gmail.com
.
The Past:
What market historians and academics think you should know about the past
What academics have learned about successful investing that surprises most investors
What is the best way to protect against the worst bear market in history and still get a good return
The Present:
How three people changed the future for individual investors forever (Hint: Warren Buffett is not one of them)
How the academics became a better source of investment advice than Wall Street
The best kind of funds for first time and retired investors
The Future:
Why investing has never been easier or more profitable
How to manage your emotions, the biggest hurdle to investment success
12 simple steps to put the past and present to work for you and your family's financial future