Bainbridge Community Foundation Honors Local Philanthropists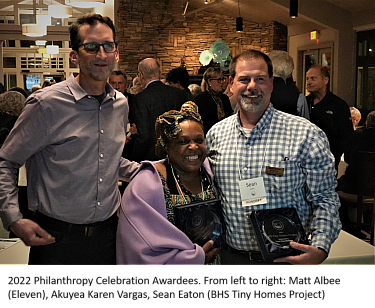 The original Greek meaning of the word philanthropy is the "love of humanity," and tonight, that feeling was palpable. The awardees of BCF's 2022 Philanthropy Celebration on November 3rd have inspired incredible acts of giving—often realized through the work of nonprofits—and have laid a strong foundation for others to follow in their footsteps. Whether it is donating their time or donating their financial resources, they focus on making life just a little bit better for everyone.
BCF was honored to recognize four individuals and groups this year, all of whom have expressed their love of humanity through their philanthropy.
The descriptions of each award and awardee is below.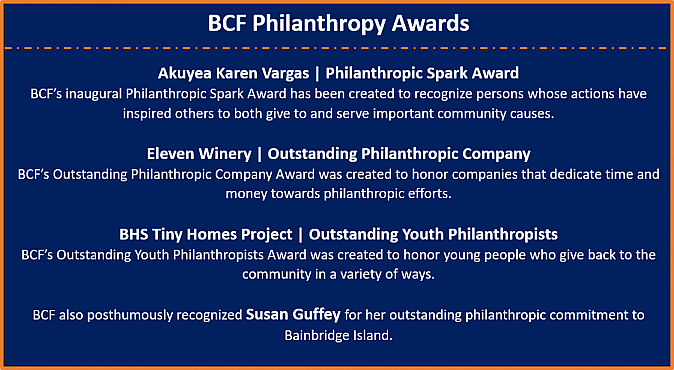 Akuyea Karen Vargas | Philanthropic Spark Award
Akuyea Karen Vargas' influence on Kitsap County spans 30 years. After moving to Bainbridge Island in 1992 with her husband and three children, she became involved with the school after her kids were discriminated against for the color of their skin. As she advocated for their social, emotional, and cultural needs, over time her dedication to the cause grew and expanded to the entire community. She has been able to mobilize diverse groups and individuals in Kitsap County through a variety of initiatives and nonprofits including founding The Living Arts Cultural Heritage Project (LACH), and the Marvin Williams Community Center. In the words of Akuyea, "I feel very strongly about truth and reconciliation, peacemaking, breaking down barriers that keep us divided."
Eleven Winery |Outstanding Philanthropic Company
When Matt Albee and his wife crushed their first grapes to create Eleven Winery in 2003, they set out with the objective to not only make good wine, but to instill a sense of responsibility in their young children at the time. Giving back became an integral part of Eleven Winery's business model. They currently donate approximately 1% of their annual revenue to charity and buy most of their products from philanthropic companies. Eleven Winery also supports a host of local charities through gifts of auction items and discounts on wine for fundraising events, as well as hosting events at the winery.
BHS Tiny Homes Project | Outstanding Youth Philanthropists
The Tiny Homes Project started with Washington State legislation. There was $950,000 allocated to build 50 tiny houses by 400 students for homeless people in Washington State. In conjunction with the Low Income Housing Institute, Bainbridge High School (BHS) Advanced Architecture students and BHS Advanced Wood Technology & Construction, students built two tiny homes and delivered them to help provide affordable housing in King County. The students, many of whom were girls and who are traditionally underrepresented in the construction industry, were given a paycheck of up to $1,300 depending on the amount of time they put into the project. Not only did students learn new, practical life skills, but they could see money come in from the timecards, while also receiving recognition from the community.
Susan Guffey | Special Recognition
BCF also posthumously honored Susan Guffey at the event. In life, Susan Guffey preferred anonymity to the spotlight. But that didn't stop her from being a dedicated community builder and counselor to numerous local nonprofits. What many would have considered an "angel donor" Susan was often early to support nonprofit initiatives—often providing seed funding to enable new programs to be built. Susan passed away earlier this year, but not before leaving a permanent mark on her community.
Thank you to Windermere Commercial and Fieldstone Communities for underwriting BCF's Philanthropy Celebration on November 3rd.