Community Grants Cycle Awards Record $605,975 in Local Grants
BAINBRIDGE ISLAND – Bainbridge Community Foundation's 2023 Community Grants Cycle (CGC) awarded a record-setting amount of $605,975 in grants to local nonprofits, which greatly exceeds the previous high mark of $561,692 awarded last year. Total funding since the CGC began in 2005 is more than $4.5 million—and almost every year the CGC reaches a new record, which reflects the values and generosity of this community.
"I had no idea how many nonprofits were working in this community," commented Jen Suntrup, one of the 53 volunteers who reviewed applications to the 2023 CGC. "This was my first time volunteering with BCF, and I interviewed three impressive Executive Directors. I truly didn't know about the depth and breadth of the incredible work of these nonprofits. It was inspiring." Applications this year included supporting mental health services and counseling for vulnerable populations, expanding creative education for youth and older adults with cognitive challenges through arts and cultural activities, and providing childcare tuition assistance for low-income families. Every proposal fulfills a community need within the sectors of arts and culture, animal welfare, education, environment, recreation, health, housing, and human services.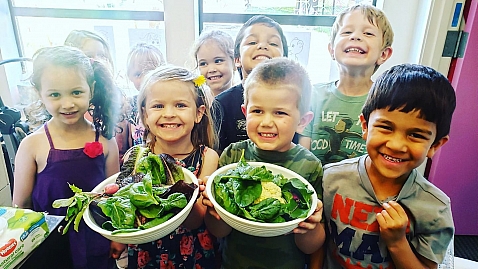 BCF's CGC was designed to be a community-driven effort. This year, 53 volunteers from the community approved 65 of the 68 applications. Once volunteers conducted their evaluations, they met as a group to discuss whether to approve proposals and recommended funding ranges. They then allocated the initial $50,000 in BCF funding to nonprofits. Shortly after, BCF opened up Bainbridge Gives, which is a month-long awareness and fundraising effort to fund the gap between the amount BCF has available to distribute and the amount approved by the committee for the proposals. Applications ranged from $1,000 to $11,000 and 60 nonprofits received the full amount requested or more. Of those 60, eleven received bigger grants than requested. If nonprofits were not approved, BCF communicated to them about how to strengthen applications next year.
BCF was proud to provide special funding to five organizations for prioritizing Inclusion, Diversity, Equity, Accessibility, and Social Justice (IDEAS) as part of their work. This year's IDEAS Award went to organizations that made extra efforts to make their programs and services more accessible and inclusive. While 41 of the 68 applications this year identified their applications as related to IDEAS work, only five organizations received the award—recognizing nonprofits at different stages in their IDEAS journey. These organizations were Bainbridge Island Historical Museum, Housing Resources Bainbridge, Kids In Concert, Kitsap Legal Services, and Neurodiverse Connections. Their applications included providing Neurodiversity education and NeuroEmpathy workshops for local schools, health and safety home modifications for low-income adults, and preserving community access to historical and cultural stories. Each nonprofit received $2,000 as part of their grant award for their IDEAS efforts, with a total distribution of $10,000 in BCF IDEAS awards.
In addition, BCF awarded the BCF Klasky Collaboration Award to a nonprofit for working closely in partnership with others. BCF awarded $5,000 to Helpline House to support their request for a collaborative new program with Kitsap Homes of Compassion for low-wage earner housing on Bainbridge. The total grant was for $15,675, more than the original $10,000 requested amount.
BCF is thankful to be supporting such innovative and thoughtful programming, and even more grateful for the support we find in our neighbors. In a recent thank you card to BCF, Bainbridge Book Festival wrote "We are so very grateful for your grant. It's our first, and it means so much to have this vote of support and encouragement from the community." If you would like to learn more about BCF's Community Grants Cycle, please contact Debbie Kuffel at debbie@bainbridgecf.org or click here to see a full list of funding.
See graph below for the breakdown of funding by sector:
Health, housing, and human services received almost half of the 2023 CGC funds.
See graph below to see how BCF's CGC has grown since inception:
Since this program began in 2005, BCF has awarded more than $4.5 million total through its Annual Community Grants Cycle.