Condemning Racism and Supporting Social Justice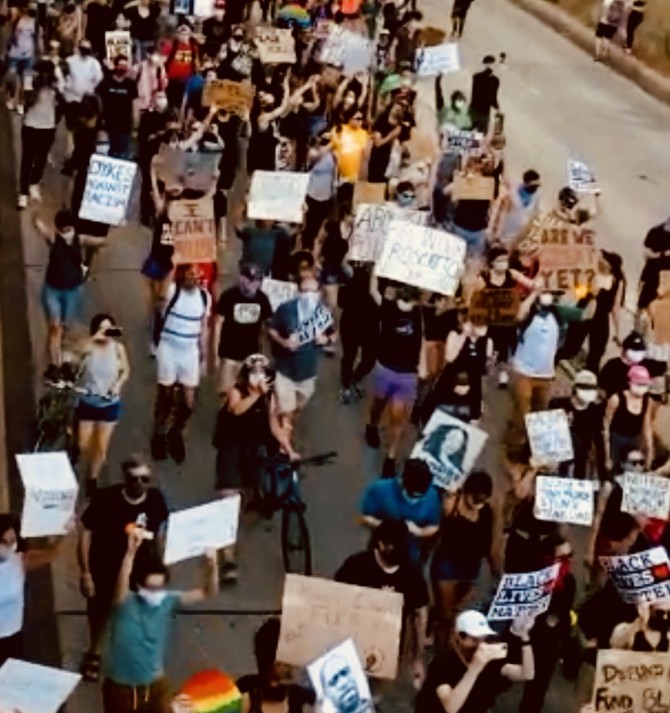 We will never be able to bring back the lives lost to injustice. George Floyd's senseless murder on May 25th ignited rage across the country, causing hundreds of thousands of citizens to flood the streets in protest. His death tragically highlights the implicit and explicit racism that our country has not been able to overcome, and makes him yet another black man whose life came to an abrupt halt far too early.
The fundamental rights of equality, justice, and freedom are supposed to be guaranteed to all people living in the United States, but these tragedies occur over and over again. The right to peacefully protest is protected by the First Amendment of the Constitution, and "Equal Justice Under Law" is carved above the main entrance to the Supreme Court building. Since Floyd's death, protestors have overwhelmed many major cities and small towns in all 50 states in an effort to bring awareness and attention to the inequality and injustice that remains part of our system. Despite some violence, looting, and disturbing incidents between protestors and police last week, there have also been stories of police protesting alongside the men and women who have taken to the streets. These positive stories are a glimmer of hope that perhaps this should signal a turning point in our history, rather than simply a horrific event that led to conflict.
Here on Bainbridge, we saw hundreds take to the streets to stand up for justice. The question of what else we can do always lingers in our minds. What can we do now? It is never too late to educate ourselves, our kids, and our loved ones about racism in our society. We can read about unconscious bias, self-reflect, and keep having conversations about race—no matter how uncomfortable. Violence may always exist, but minorities should not have to feel threatened when they pass a police officer. The more we can teach ourselves, the brighter our future will look. We need to see change, and it starts with us. In addition to "showing up," another way to help is to provide immediate support to organizations on the ground. We've compiled this brief list of nonprofit organizations doing some important work in this area.
Kitsap County
NAACP Bremerton Chapter – ensures the political, educational, social, and economic equality of rights of all persons and to eliminate race-based discrimination.
Kitsap Immigrant Assistance Center – provides legal assistance and support to empower, educate and integrate immigrants through advocacy and social justice programming.
Regional
ACLU Washington – ACLU Washington is the state affiliate of the national ACLU, which focuses on civil rights and civil liberties. They work to ensure justice, freedom and equality are realities for all people in Washington State, with particular attention to the rights of people and groups who have historically been disenfranchised.
Africatown Community Land Trust – The mission of Africatown Community Land Trust Mission is to acquire, develop and steward land in Greater Seattle to empower and preserve the Black Diaspora community. Africatown envisions vibrant and thriving Black Communities through land ownership.
Byrd Barr Place – For 50 years, Byrd Barr Place has provided essential human services to Seattle residents in need—a warm home, food on the table, and immediate financial relief—so they can break the cycle of poverty and build self-sufficiency. Their programs help Seattle residents who live significantly below the federal poverty level.
Central District Forum For Artist & Ideas – Central District Forum for Arts & Ideas is the only local, nonprofit organization solely dedicated to presenting emerging Black arts, artists, and ideas in the Seattle area. They believe in the value of community, creativity, identity and passion, which serves as their strategic frame and guide day-to-day operations and program decisions.
FUSE Innovation Fund – FUSE Innovation Fund brings progressive ideas to life by elevating local voices through long-term community-based organizing and adding communications capacity to issue-based campaigns. They share lessons-learned to increase the capacity and effectiveness of the broader progressive community in Washington State, and hold those in power accountable to ensure all voices are heard.
Creative Justice – Creative Justice builds community with youth most impacted by the school-to-prison-(to-deportation) pipeline. Participants and mentor artists work together to examine the root causes of incarceration, like systemic racism and other forms of oppression.
Kouyate Arts – Kouyate Arts is an African performance company in Seattle, Washington.
LANGSTON – LANGSTON is a nonprofit arts organization, established in 2016 to lead programming within the historic Langston Hughes Performing Arts Institute. LANGSTON guides generative programs and community partnerships that center Black art, artists and audiences and honor the ongoing legacy of Seattle's Black Central Area.
NOT THIS TIME! – Andrè Taylor formed this Seattle-based nonprofit after a pair of city police officers fatally shot his brother, Che, in 2016. Two years later, Not This Time! successfully backed Initiative 940, which removed the "malice" standard previously needed to charge Washington law enforcers with violent crimes. The organization continues to demand police reform in Seattle and beyond.
Northwest African American Museum – NAAM's mission is to spread knowledge, understanding, and enjoyment of the histories, arts and cultures of people of African descent for the enrichment of all.
Northwest Bail Fund – The Northwest Community Bail Fund is a nonprofit organization advocating for bail reform. They work to minimize the harm of the cash bail system by paying bail for people who would otherwise spend the pre-trial time in jail.
Onyx Fine Arts Collective – Onyx is organized by the voluntary efforts of a group of artists and supporters committed to celebrate and promote the visual artwork of artists of African descent.
POCCAN – POCAAN is a multicultural, multi-social service agency serving marginalized communities in Seattle and greater King County. For many years their work was rooted in HIV/AIDS prevention, but it has grown with the understanding that related issues such as substance abuse, incarceration, homelessness, sexually transmitted diseases, racism, sexism and homophobia also contribute to community marginalization and health disparities.
Seattle Music Partners – Seattle Music Partners cultivates a diverse and vibrant music-making community by providing youth with free music instruction and one-on-one mentoring to eliminate racial and economic barriers to quality music education.
Seattle Urban League Young Professional Chapter – The Seattle Urban League Young Professional Chapter (SULYP) has supported emerging local leaders by providing opportunities for personal and professional development, networking, volunteering and leadership. As one component of the National Urban League, Young Professional Chapters across the country emphasize five key areas of empowerment: education and youth; economic; health and quality of life; civic engagement and leadership; and civil rights and racial justice.
Social Justice Fund Northwest – Social Justice Fund NW (originally called A Territory Resource or ATR) is a grantmaking organization dedicated to addressing the root causes of social, economic, and environmental inequities. They focus on working at the frontlines of social change to leverage the resources of their members to foster significant, long-term social justice solutions.
South Seattle Emerald – Founded as a platform that authentically depicts the dynamic voices, culture, arts, ideas, and businesses that fall within South Seattle's borders, the Emerald is news as it was originally intended to be: not as business, nor as a forum for propaganda, but as a service to the community it chronicles.
Terrain – Located in Spokane WA, Terrain is a pioneering non-profit building community and economic opportunity for the artists, makers and culture creators of the Inland Northwest.
The Black Lens – The Black Lens is an independent community publication, based in Spokane, Washington, that is focused on the news, events, people, issues, and information of importance to the African American community.
Wa Na Wari – Wa Na Wari creates space for Black ownership, possibility, and belonging through art, historic preservation, and connection. They are a center for Black art and culture in Seattle's historically redlined Central District neighborhood.
WA-BLOC – Their mission is to empower academic, creative, community-connected lifelong leaders through high-impact academic education and "place-based" social justice leadership development. WA-BLOC focuses on year-round educational programming that re-engages students in school, dismantles systemic racism, and disrupts the school-to-prison pipeline for black and brown youth in South Seattle.
Washington STEM – Washington STEM is a statewide, independent nonprofit organization headquartered in Seattle, WA and it was founded on the principles of equity, partnership, and sustainability. They seek smart, scalable solutions that lead to opportunities for those students most underserved and underrepresented in STEM fields. They believe that through a high-quality STEM education, Washington students will become the leaders, critical thinkers, and creators that will tackle the biggest challenges facing our state, nation, and the world.