How to Support COVID-19 Public Health Outreach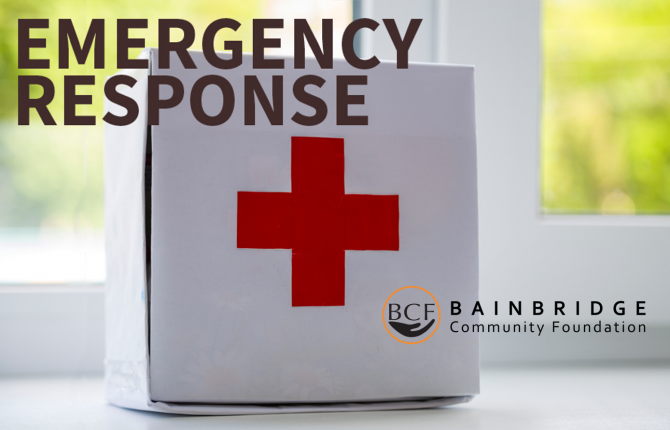 Emergency Preparedness: Bainbridge Community Foundation
When a disaster hits, we often first think of our immediate friends and family, especially those who are most vulnerable. With COVID-19 now on the island, residents are preparing to protect themselves against an outbreak. Bainbridge Community Foundation shares this concern, and we are monitoring the situation closely. The Foundation has a special fund established to help support the community in case of an emergency. This dedicated grantmaking fund, called the Community Response Fund, can give grants to health and human services nonprofit organizations that have a sudden and unexpected need for additional financial resources. Nonprofits can apply to the Community Response Fund, and if accepted, receive funding quickly to help meet the urgent needs of our community in the face of a COVID-19 outbreak. To make a contribution to the Community Response Fund, click here.
We are particularly concerned about older members of the community who could run into obstacles with self-quarantining. The four local nonprofits below are focused on helping these more vulnerable individuals, and may need your help in the coming weeks. You can support them directly at the links below. Please note that these updates could change as the status of the virus unfolds on the island.
| | | | |
| --- | --- | --- | --- |
| The Island Volunteer Caregivers (IVC) | Helpline House | Bainbridge Prepares | The Bainbridge Island Senior Center |
| Provides transportation, caregiver support and assistance to seniors and others. IVC has already proactively instituted temporary policies to ensure the safety of their vulnerable population. In addition to their regular duties, they have eliminated nonessential trips and are also offering to have volunteers shop and pick up prescriptions for all care receivers. To support IVC, click here. | Provides a full range of social services to community members. As they stay informed about COVID-19, they are being vigilant about food safety guidelines and are encouraging vulnerable populations to send a neighbor, friend, or family member to the food bank with a note to shop for them. To support Helpline House, click here. | Helps Bainbridge Island and surrounding communities to be resilient in the face of natural disasters and other calamities. They are working with the city, first responders, and citizen volunteers to ensure support and resources are available when needed. For updates on COVID-19, visit their website here. | Focuses on helping members feel connected to others. While smaller programs are currently continuing at the center, they are also considering the implementation of a virtual Senior Center where members can meet and chat online. To support the Senior Center, click here. |
We also highly recommend following the Center for Disease Control (CDC) guidelines for preventing the spread of the disease, namely by doing the following:
· Clean your hands often and thoroughly—for at least 20 seconds—with soap. If soap is unavailable, use hand sanitizer that contains at least 60% alcohol
· Avoid close contact with people who are sick
· Stay home if you are sick
· Cover coughs and sneezes with a tissue or the inside of your elbow
· Use a facemask if you are sick—you do not need to wear a facemask if you are healthy unless you are taking care of someone who is sick
· Clean and disinfect surfaces frequently
In times of crisis, there can be an abundance of misinformation that spreads like wildfire. While we still do not know all of the facts about COVID-19, the CDC has collected frequently asked questions on their website here which may answer some of your most pressing questions. If you want to learn more about school events and closures, follow the Bainbridge Island School District (BISD) website here along with BISD's FAQS saved here.
Please contact the Bainbridge Community Foundation with any questions or concerns using the contact information on our website or the information below.
Telephone: 206-842-0433 E-mail: media@bainbridgecf.org