Meet Our 2017 Outstanding Philanthropists!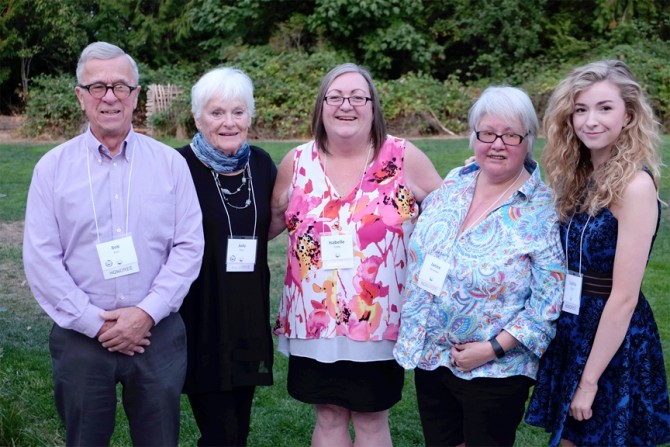 [metaslider id=1581] Bainbridge Community Foundation honored three of the island's outstanding philanthropists at "Inspiring People," the annual celebration of community giving, Sept. 15 at IslandWood. Honorees were Bob and Judy Karr, Outstanding Bainbridge Philanthropists; Bainbridge Self-Storage, Outstanding Philanthropic Company; and Sophia Doane, Outstanding Young Philanthropist. "These individuals and businesses personify the spirit of selflessness and generosity that makes the Bainbridge Island community what it is," said Jim Hopper, Bainbridge Community Foundation executive director. "They lead by example and have done so many great things for others."
Bob and Judy Karr, Outstanding Bainbridge Philanthropists: (VIDEO)
The Karrs are longtime communitarians who have always been willing to step up with their time and financial resources. They have supported an array of island organizations including KidiMu, Bainbridge Island Museum of Art, Boys and Girls Club, IslandWood and Bloedel Reserve. Judy and Bob met at the University of Washington and moved to Bainbridge Island when their children were young. Their island connection goes back generations; Bob summered on Bainbridge as a youth, and they live on property purchased by Bob's grandfather, who started a Seattle law practice in 1906. While Judy's early volunteering revolved around her kids, "mission creep" set in and she started taking on more projects and causes to make the community better, and making new friends along the way. Their advice to aspiring philanthropists: If you see something that needs to be done, go do it. It doesn't have to be big, just start and keep going. You don't need to be wealthy, just do something. "Being philanthropic is like modeling for the community," Judy says, "it makes everyone in the community want to give." "It rubs off," Bob adds.
Bainbridge Self-Storage, Outstanding Philanthropic Company: (VIDEO)
Bainbridge Self-Storage manager Janice Danielson and assistant manager Isabelle Roxy Cobb regularly use their personal and professional connections, the resources of the storage company, and their keen ability to raise money and items to benefit those in need. Their philanthropy supports animal welfare, pets and low-income families and individuals. In the storage business, they see people in all parts of their lives: divorce, death and places of need. Instead of profiting from that, Janice and Isabelle go out of their way to help others.  When a piece of furniture isn't wanted, they find someone who needs it.  When someone needs help, they find someone to give it to. Their philanthropy is year-round. In the winter, they round up warm coats for people, in the spring, they take in pet food for shelters; in summer, they support the Rotary Auction, and in fall they collect backpacks for students. At Thanksgiving, they collect turkeys and last year donated 40 to Helpline. "If you can, why wouldn't you?" Janice says of contributing to the community. "You gotta do something. Why not be helpful?"
Sophie Doane, Outstanding Young Philanthropist: (VIDEO)
Sophie is a young concert master violinist who volunteers as an instructor with Kids in Concert, an after-school program that provides study help and music lessons to at-risk youths. Moved by the impact on her students, the past year she has raised $5,000 for the program to fund additional teaching positions. She also volunteers with Smile Partners, Helpline House and the Park District. Many Kids In Concert students come from tough home situations or have foster parents. Sophie uses creative teaching techniques to reach her students. She sees the value the program has for the kids, and has watched as they start out struggling to learn an instrument but finally can share in performance. "I feel happy that they have joy in their lives through music," Sophie says. "I love their sense of wonder and feel so happy when they finally get it." She believes everyone on Bainbridge Island has an interest or passion for something that correlates to an area of community need. "Your interest in that could lead to something bigger – think about what more you could bring to the community," she says.